Sienna t'Ralaa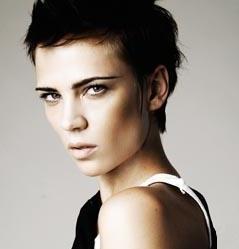 Species: Romulan
Birthdate: 2380.06.06
Gender: Female
Hair Color: Black
Eye Color: Dark Brown
Height: 5' 10" / 1.78m
Weight: 130lbs / 59.1kg
Birthplace: Aihai, ch'Rihan
Family
Mother: Eviess t'Ralaa
Father: Nvied tr'Ralaa
Brother: Talar tr'Ralaa
Distinguishing Features and Characteristics
Tall, lean, strong and fit, Sienna keeps her jet black hair short and neat. She has a smooth and flawless complexion, and a smile which can light up a room in an instant.
Personal Profile
Sienna pushes herself to the very edge of both her physical and mental limits, always striving for perfection, to be first, the fastest, the strongest, the best, constantly focusing on her goals and beyond. Her free time is usually spent in the gym or on training exercises in the holodeck, and she can sometimes be a little too serious and blinkered and forget that there is also a time to play.
Background
Sienna was brought up on her parent's farm in Aihai on the outskirts of Ra'tleihfi, with her brother Talar, three years her senior. She loved her life on the farm, and grew up as a bit of a tomboy. Not only did the physical work keep her fit, but her father and brother taught her to shoot, hunt, fish and survive. Although very intelligent, Sienna didn't do well academically, mainly because she had so many jobs to do on the farm after classes, and little time for schoolwork. It seemed a natural choice to pursue a career which allowed her to be active, and once she had set her mind to joining the Navy, Sienna took extra classes to catch up and worked tirelessly to gain the qualifications she needed.
Summary
2402.04.01: Enrolled in Academy, after 5 years service as NCO
2406.04.15: Graduated in top 20% of class, Assigned to SES S'Tarus
2407.04.20: Completed 1 year satisfactory service, Commissioned Erein
2407.05.01: Assigned to SES S'Task, Legionnaire
2408.04.16: Promoted to erei'Arrain and Legion CO, SES S'Task
page revision: 1, last edited: 28 Sep 2008 14:57