Sascek tr'Tekar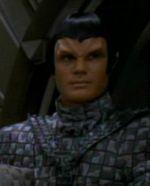 Species: Romulan
Birthdate: 2384.09.20
Gender: Male
Hair Color: Black
Eye Color: Blue
Height: 5' 11" / 1.80m
Weight: 199lbs / 90.5kg
Birthplace: ch'Rihan
Distinguishing Features and Characteristics
Sascek is a lot kinder and less arrogant than most Romulans due to the fact that he spent the last 2 years on a human starbase and has a deep respect for their beliefs, he even shares a few of them.
Personal Profile
Sascek is a hard worker and has led a rather boring life. He has low self esteem and is shocked easily by praise but is growing out of that.
Background
Sascek led a sheltered life although his parents were never at home and finished his first and second stages of education without any trouble. There was a minor problem in the medical school where the student next to him accidentally stabbed him in the arm with an old fashioned scalpel but the injuries weren't serious and there was no furthur incident.
His first assignment was aboard Starbase 13 where he was a medical officer and while there he picked up a few human beliefs, such as their respect for all life forms an has carried them with him for the past two years.
Summary
2384.09.20: Date of birth
2391.11.24: Completed first stage of education
2397.11.24: Completed second stage of education
2401.05.12: Ended term at the Romulan school of medical knowledge
2404.07.30: Started serving aboard the human Starbase 13
2406.08.06: Began commission aboard the SES S'Task
2406.10.17: Promoted to erei'Arrain, and to Chief Medical Officer
2408.07.06: Promoted to Arrain
page revision: 1, last edited: 20 Jul 2008 20:29