Rose McGregor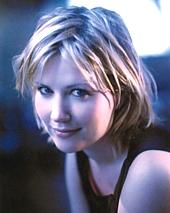 Species: Human
Birthdate: 2379.03.27
Gender: Female
Hair Color: Blonde, untidy, shoulder length
Eye Color: Deep Blue
Height: 5' 7" / 1.70m
Weight: 130 lbs / 59.0 kg
Birthplace: Copernicus City, Earth's Moon
Distinguishing Features and Characteristics
Rose has a pale complexion and striking blue eyes. Her natural dimpled smile can instantly light up a room. She has a pleasant, easy-going, warm personality, and is confident in her abilities, effortlessly putting her patients at ease.
Personal Profile
An intelligent and skilled doctor, Rose is always on the go. Though her spare time is rare, she spends most of it keeping fit, particularly enjoying racquetball and running. She loves nothing better than a night out with her best friend Tamzin and plenty of alcohol. The rest of her time, she likes to read - the latest medical research, novels, and anything else she can get her hands on.
Background
Rose was born in Copernicus City on Earth's Moon, the first child of Frances and James McGregor. Money was always tight and Rose's parents worked long hours and lots of overtime to make sure there was always food on the table. Her father is an employee of the City's shipyards, where he has worked his way up to supervisor. When Rose was 10, and soon after the birth of her sister Megan, their mother died from Telurian Plague. Rose struggled for many years to come to terms with the death of her mother. But from that moment on, she vowed to become a doctor, and to do everything in her power to discover a cure for the disease. Rose was often left to look after her sister and though it was tough, she loved the responsibility, taking great pride in caring for her, and trying her best to be a mother as well as a big sister. The girls spent holidays with both sets of grandparents in Scotland on Earth.
Rose loved her time at Starfleet Academy, working hard, and playing equally as hard. She liked every subject, and excelled in forensic medicine, genetics and microbiology. After graduating in the top 5% of her class, she was assigned to the cruise ship USS Eclipse, where she gained experience and confidence with a wide variety of species and situations. During this time, and with the help and support of her CMO, she was able to begin her research into a cure for the disease that killed her mother.
Whilst aboard the Eclipse, Rose was engaged to a pilot, Aidan, whom she first met at the Academy, when she was in her third year, and he was in his final year. They went out for a while, and were reunited when Rose was assigned to the same starship he was serving on. Rekindling the relationship, they became engaged almost immediately. They had great fun, and were the best of friends. But, hardly being able to spend any time together, they slowly started to drift apart. By the time Rose was reassigned to the USS Discovery as CMO, just over a year later, they had already decided to go their separate ways, but still remain friends. She's yet to find that special someone.
Rose's passion is forensic medicine, and she was delighted to be accepted into the Starfleet Advanced Pathology Program, thinking it would help to advance her career as a doctor. Instead, it did the opposite and she was reassigned to Starbase Horizon as Chief Science Officer. Increasingly unhappy, and completely out of her comfort zone, Rose contemplated leaving Starfleet, but instead took a short LOA and requested a transfer to the medical department. She was eventually promoted back to CMO on 2408.01.29.
Starfleet Service Record
2396.09.01: Entered Starfleet Academy & Medical School
2404.07.01: Graduated top 5% of class, Commissioned Ensign
2404.07.14: Assigned to USS Eclipse, Medical Officer
2405.02.20: Promoted to Lt (JG)
2405.10.30: Assigned to USS Discovery, Chief Medical Officer
2406.01.10: Promoted to full Lieutenant
2406.06.11: Accepted into Starfleet Advanced Pathology Program
2406.07.22: Completed Starfleet Advanced Pathology Program with distinction
2406.07.24: Transferred to Starbase Horizon, Chief Science Officer
2407.05.01: Transferred to Medical department, Starbase Horizon
2408.01.29: Promoted to Chief Medical Officer, Starbase Horizon
Back to Horizon
page revision: 0, last edited: 22 Jul 2008 18:08