Neal Thorp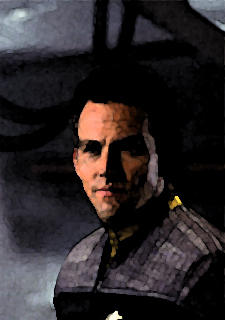 Species: Human
Birthdate: 2360.03.17
Gender: Male
Hair Color: Brown
Eye Color: Green
Height: 6' 1" / 1.85m
Weight: 208 lbs / 94.5 kg
Birthplace: Naples, Italy; Earth
Distinguishing Features and Characteristics
Can flare nostrils on command.
Background
Neal Thorp was the picture of perfection when growing up. The poster child to take his father's place in the diplomatic field - perhaps to become Federation Ambassador one day. But Thorp's dreams laid elsewhere, thanks to his brother-in-law who was a Starfleet Officer. Thorp wanted not only to explore the stars, but to command a starship and direct it to his destiny. It was something he dreamed of growing up, while being taught the fine arts of diplomacy by his father to take over the "business".
After high school, it was a big shake-up within his family when Thorp applied and was subsequently accepted to Starfleet Academy. His father was outraged, at first, but decided to make it into an opportunity for Neal to gain some experience and learn some discipline. Then Neal went into the engineering program which pissed his father off to no end.
Neal's experience with computer technology helped him grow into the field he went into today. His father's arrogance followed him through the academy as he was considered the "preppy rich kid" who some believe was handed his degree. But Neal did earn all the credits he studied hard for.
Decorations and Commendations
1st Place in the Annual Pizza Eating Contest held in Naples (High School)
2nd Place in the European Spelling Bee contest (4th Grade) for spelling the word "Raxicoricufalavitorius" correctly
MVP in the American Football League (which had a total of two teams)
Entered into the Guinness Book of Intergalactic Records for the Quadrant's longest stare (4.8 hours into the eyes of a stoic Vulcan who blinked involuntarily).
Starfleet Service Record
2408.05.24: Assigned to Starbase Horizon, Engineering Officer
Back to Horizon
page revision: 0, last edited: 22 Jul 2008 18:04