Kaia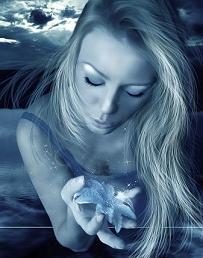 Species: Hannri; Cyan Race
Birthdate: 2381.10.17
Gender: Female
Skin Color: Pale Blue
Hair Color: Silver (also silver nails)
Eye Color: Midnight Blue
Height: 5' 6" / 1.68m
Weight: 98lbs / 44.6kg
Birthplace: Hannrileth
Distinguishing Features and Characteristics
Kaia is typical of the Hannri Cyan Race with pale blue skin, and long silver hair. She is willowy, beautiful, and softly spoken. Kaia is empathic, sensitive, and caring. On her right arm she bears a tattoo marking her as a slave of S'Task.
Personal Profile
Always respectful to her superiors, Kaia is good-natured, kind and calm. She is intelligent, a quick learner, and carries out her duties swiftly and to the very best of her abilities.
Background
When only a couple of weeks old, Kaia was selected as a titheling – one in ten Hannri children born every year chosen at random to serve as Romulan slaves. She spent a happy childhood with her parents – Pheni and Alaq – and her extended family, enjoying music, painting and writing. Aged ten, Kaia was taken from her family and sent to titheling school where she was taught the ways of Romulans and skills she would need to serve. As a young child Kaia showed a natural aptitude for science and dreamed of one day becoming a doctor. Of course that had been impossible, so she was thankful for the opportunity to train and be assigned as a medical assistant.
Summary
2406.10.20: Assigned to SES S'Task, Medical Slave
page revision: 0, last edited: 20 Jul 2008 21:46